Welcome to the Art Submissions Page!
This is the place to submit your art and information.
To add to this page you must be logged in to your Wikia account.
Please put all entries beneath the line. Be sure to put your picture and information underneath your name (you can use your real name, nickname or account name.) Also check that you haven't deleted someone's things by accident, and be sure that you put your information in the right category. When adding to a category, put your entry at the bottom of the submissions, not the top.
Please be sure that you've read the Category Information before you add your work. Thank you for your submissions!
Category Information
We currently have four categories of art that you can submit under:
Creative Photograph: using figurines, objects and scenery (an example of this would be a photograph of an apple and a Death Note sitting on a computer desk.)
Handmade: a picture of a handmade Death Note-related creation of yours (a notebook, quilt, purse, doll, cake that you decorated etc.)
Your Name and Other Info
Edit
Your information goes here. Be sure that there is enough space between your information and the information of the person above. Their picture should not interrupt your paragraph. The large letters above this sentence were made with "Heading 3." This text is "Normal text." Start your entry below mine. (Do not remove this information.)
Paul as L
Edit
Your information will go in this spot here, while your picture goes on the right side. If you need help adding your things or you have any questions, contact MarleneZ. and she will help you. Once your work is shown with an article on the Main Page we will add the article here.
Main Page Article (August 17, 2012)
While at an anime convention, Paul entered into a LARP fight as L. After many successful rounds in the advanced stages he eventualy lost, to the disappointment of an entertained audience. The humble young man tells us that his favorite part wasn't his many victories, but the sound of the audiences "Aww" when he finally courted defeat. About the costume and being L, Paul says that he enjoyed the experience very much and chose to cosplay L "because half the costume could be bought at Wall-Mart, and I'm fond of L." When we asked Paul to tell us a bit about himself, he answered that he plays the drums and enjoys larping. His favorite anime is FLCL ("Fooly Cooly") and his favorite anime character is Kamina, from Gurren Lagann.
Drawings/Paintings
Edit
Note: Put your entry beneath the ones that are already here. In the space labelled "Name" you should add your name and then who/what you drew or the title of your drawing (Name: Marlene, "Near"). We need your name (first name, username or nickname) in order to put your work on the Main Page. You can also add a link to your website (such as DeviantArt) within the "Information" section.
Name: Beyond the Veil
Edit
Information: A new way of looking at BB since people draw him often normal.
I drew it in this way because it was actually a failed attempt of another drawing (ha ha). The drawing as a whole took me roughly 2 hours because how much time I took drawing and then rubbing it out.
Main Page Article (August 26, 2012)
Gail brought us this awesome picture of Beyond, which has an interesting story behind it. After failing her initial drawing, rather than quit and throw out the piece she decided to work it into this creative picture of Beyond. Gail tells us that she spent about two hours on her drawing, and took a long time working on the background which had to be rubbed out to create the smeared effect. When discussing her portrayal of Beyond in the picture, Gail said she wanted to show "a new way of looking at BB." We can certainly feel the emotion behind Beyond's soft expression, and the creative rendition of his eye gives the picture a very whimsical touch.
Name: L Lawliet
Edit
Information: A drawing of L. Well, of course, judging from the title. Basically a 30 minutes sketch, I might upload another soon o.o I guess I was just bored but didn't want to spend too long on a drawingxD If I have anymore time in the next 2 weeks, I might upload another one>.>
Main Page Article (September 2, 2012)
The secretive artist brought us this great picture of L, which they drew while fighting off boredom. The sketch took them about thirty minutes to complete. We really enjoyed this submission for it's colors, and loved the shading of L's skin and hair. The artist informs us that they might upload some more drawings, and we certainly look forward to them! We'd like to thank "TheOriginalL" for this awesome entry, and hope we get some more!
Information: I drew this during school when I was in art. It took me just under an hour to do because that's how long I had. I originally was going to draw B but I didn't actually have much to go on so I drew L instead.
Name: Light Yagami [Descent of a Savior]
Edit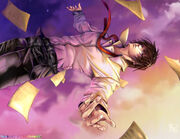 My name is Malcolm S. Newton (More commonly known as ProcerDeCrepusculum from the DeviantArt website) I'm an artist who wishes to share one of my fan arts of Death Note here for you guys.
The character depicted is Light Yagami.
You can appreciate the full image here and my other works, if you are interested, here.
As for this project, the line art was drawn by hand in regular HB pencil on standard white 8.5x11 stationary. Afterwards, I scanned it into my computer and finished coloring it in Adobe's Photoshop Elements 9.
Thanks for viewing…
ProcerDeCrepusculum (talk) 04:42, September 19, 2012 (UTC)
Ad blocker interference detected!
Wikia is a free-to-use site that makes money from advertising. We have a modified experience for viewers using ad blockers

Wikia is not accessible if you've made further modifications. Remove the custom ad blocker rule(s) and the page will load as expected.