Death Note One-Shot Special
Talk

0
394pages on
this wiki
Death Note One-Shot Special

Chapter Information

Chapter

109

Character debut

Pages

46

Chapter Guide

Previous
← Finis
Next
N/A →
The Death Note One-Shot Special was serialized in a 2008 volume of Weekly Jump, and explains what happens in the series three years after the Kira case is resolved.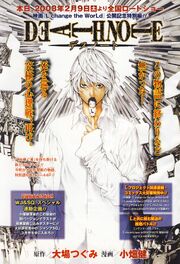 Near
is shown as the new
L
(the third chronologically). A new
Kira
emerges who had gained a
Death Note
from the
Shinigami
Meadra (
Midora
in Viz's translation of
How to Read
), who had received the additional Death Note from the
Shinigami King
by bribing him thirteen apples she had taken from the
human world
. The new Kira murdered elderly people in Japan to "relieve their pain." When Near's
SPK
subordinates asked him why he wasn't taking any action, he replied that he was trying to think what the previous
L
would have done. The flashback of L communication to the children at
Wammy's House
is shown again, when Near says that he has only heard L once. This also where L admits that figuring out difficult cases is his hobby, and not justice at all. Near also says that he had come to admire L later on in his life. Near finally reaches a conclusion that the prevailing Kira was just a killer without a purpose, and he labeled the killer as "
C-Kira
" for "Cheap Kira". He announces on national television, under the alias of "L", that he was not interested in the case and that he had deduced that this Kira was not the real one but only an "abominable murderer". This resulted in C-Kira writing his own name in the Death Note. Throughout the 46-page manga chapter, the identity of the new Kira is not revealed.