Ginzo Kaneboshi (銀造カネボシ, Kaneboshi Ginzou) was the president of a large financial company, but he was also a loan shark.
Appearance
Edit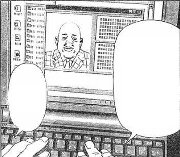 Ginzo is a large man with small, dark-colored eyes and pointed ears. He is bald and has a small two-part mustache.
According to Kyosuke Higuchi, he often resorted to immoral methods in order to get money from his debtors. He was killed by Rem using the Death Note to convince Higuchi that Misa was the Second Kira.
Ad blocker interference detected!
Wikia is a free-to-use site that makes money from advertising. We have a modified experience for viewers using ad blockers

Wikia is not accessible if you've made further modifications. Remove the custom ad blocker rule(s) and the page will load as expected.