Gook
Talk

0
388pages on
this wiki
Gook
Appearances

Manga Debut

Anime Debut

Personal Info.

Species

Shinigami

Gender

Male

Stats

Intelligence

3/10

Inquisitiveness

2/10

Initiative

3/10

Empathy

3/10

Kills

6/10

Rank

7

Actors

Japanese voice actor

Takeharu Onishi (大西•健晴, Onishi Takeharu)

English voice actor

Lee Tockar

Spanish voice actor

Vincente Gil (Spanish version)
Ernesto Lezama (Latin American version)

Gook (グック, Gukku) is a lazy Shinigami.
Appearance
Edit
Gook's most prominent feature is his animal mask which is that of a cattle skull. He also wears a big green beaded necklace and has yellow eyes.
Character
Edit
Like Deridovely, he enjoys gambling too, although he is a poor gambler.
He appears gambling with Deridovely in the first episode and witnessed the way of Ryuk to the Human World. Thereafter, it was absent from the series, and only appeared in the Ryuk's flashbacks in which he had to Light on the Shinigami Realm.
Gook also appeared in the prologue chapter Death Note One-Shot Special. He thinks that Ryuk is the Human World but is mistaken, and that was who was Midora. After that he starts chatting with Ryuk on apples that Midora brought the Human World to Shinigami King in exchange for a Death Note but Gook does not care for it.
His last official appearance in the series was in the OVA Death Note Relight 1: Visions of a God, where the Unnamed Shinigami was talking to him, Deridovely and Zellogi for the location of Ryuk.
Conception
Edit
Obata
said that, as Gook appears in the first chapter, he wanted for him to look like a monster t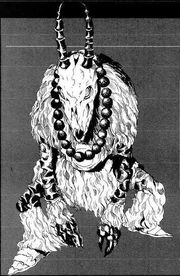 o keep it simple. Obata decided to use a cattle skull in the design as he felt that using a regular skull would be boring.