Hideaki Suruga
Talk

0
395pages on
this wiki
Hideaki Suruga
Appearances

Live Action Films

Novels

Personal Info.

Also Known As

Suruga
Mr. Suruga

Species

Human

Gender

Male

Occupation

FBI agent

Organization

FBI

Actors

English Dub

Brian Dobson

Portrayed By

Kiyotaka Nanbara

Hideaki Suruga (駿河 秀明, Suruga Hideaki) is an FBI agent who was in charge of getting the L's Death Note but during of the film, switches sides and helps.
Character
Edit
Suruga proved to be a great partner for L in the film, since he obeyed everything he wanted or needed and also quit his job to help him. He also showed concern for Maki Nikaido as he stood beside her while she was in hospital.
Suruga was in c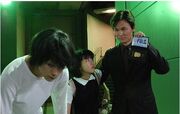 harge of earning the trust of L and then get his hands on the Death Note. He followed
L
,
Maki
and
Near
to the Blue Ship ecological group under the command of
Kimiko Kujo
. He was the driver of the van L was using in order to escape from a member of the Blue Ship that was chasing them, in which he was the bait. He ended up fighting with a marketer because when he was running, the Blue Ship was on a one-way street and ended up running over some tents with food.
Suruga talks to L about Maki, who was already infected with the virus. Then he reconsidered and said he would better drop the FBI and help L. He then became a bait again to help L meet with Dr. Koichi Matsudo.
Later, Suruga discusses with L the plans of Kujo and Matoba. He also reveals that his true mission was to get the Death Note. He then takes L to the airport to try to stop the airplane and Kujo's plan. At the end of the incident, Suruga thanks L, feeling honored to have worked alongside him and L says the same.
At the end of the film, Suruga visits Maki who was hospitalized with the virus and gives her a teddy bear with L's voice recorded.
(when trying to get away from his pursuer) "Damn it, get the hell off my ass!"
"Damn it, why am I always stuck being the decoy?"
"I must say, it's been an honor working under the command of the legendary L."
In one scene of the film, he appears preparing a crepe and eating it, like L, holding the crepe with his fingertips.