Hirokazu Ukita
Talk

0
394pages on
this wiki
Hirokazu Ukita
Appearances

Manga Debut

Anime Debut

Live Action Films

Personal Info.

Species

Human

Gender

Male

Date of Birth

November 9, 1977 (1980 in anime)

Date of Death

April 18, 2004 (2007 in anime)

Age

25

Height

5'3"

Weight

112 lbs

Stats

Intelligence

5/10

Creativity

4/10

Initiative

7/10

Emotional Strength

7/10

Social Skills

6/10

Other Attribute

Bravery: 8/10

Actors

Japanese Dub

English Dub

Jeremy From

Spanish Dub

Ramon Hernandez (Spain)
Michael Angel Ruiz (Mexico)

Portuguese Dub

Marcelo Garcia

German Dub

Hungarian Dub

Portrayed By

Ikuji Nakamura (中村育二, Nakamura Ikuji)

Hirokazu Ukita (宇生田 広数, Ukita Hirokazu) was a member of the Kira investigation team that was lead by L.
Character
Edit
Ukita proved to be a man of strong character and with great determination as they did not withdraw the case Kira while several others did. Ukita also showed no very calm or patience since, when the transmission of Second Kira was passed, he went straight to Sakura TV to continue to prevent the transmission.
When Misa Amane (the second Kira) has Sakura TV broadcast a message from her as Kira, Ukita recklessly rushes to the station to stop the broadcast, without any prompting by the rest of the team. Since Misa has the Shinigami Eyes, she kills him as soon as he approaches the door and is about to shoot.
In the film, h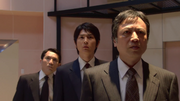 e is portrayed by Ikuji Nakamura, and appears notably older. Ukita does not die in the film;
Mogi
is killed in his place.
Conception
Edit
Obata said that Ukita is an "emotional" and "easy-to-understand" character who therefore was "easy to draw". When Obata designed him, he did not know that Ukita would die. Obata felt "really surprised" when he saw Ohba's thumbnails portraying Ukita dead.
Ukita is shown in the Manga to be a smoker making him, Wedy, Matt, Yamanaka and Demegawa the only characters in the series shown to do so.

Ukita dies by a heart attack

Added by

The Maverick013

Though Ukita dies in both the Anime and Manga, he does not die in the movies. A similar death was instead given to Mogi, who oddly enough does not die in either the Anime or Manga.