The International Criminal Police Organization is an organization facilitating international police cooperation. It was established as the International Criminal Police Commission in 1923 and adopted its telegraphic address as its name in 1956.[1]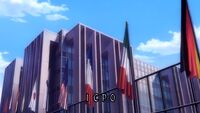 INTERPOL is alerted when criminals around the world start dying of heart attacks. Fearing the worst, they call for assistance from L, the world's greatest detective. Watari informs them that L has already been investigating the case at hand and agrees to cooperate in order to track down the vigilante known only as "Kira."
References
Edit
Ad blocker interference detected!
Wikia is a free-to-use site that makes money from advertising. We have a modified experience for viewers using ad blockers

Wikia is not accessible if you've made further modifications. Remove the custom ad blocker rule(s) and the page will load as expected.