Kanzo Mogi
Talk

1
397pages on
this wiki
Kanzo Mogi
Appearances

Manga Debut

Anime Debut

Live Action Films

Video Games

Personal Info.

Also Known As

Kanichi Moji (模地幹一, Moji Kan'ichi)
Motchi

Species

Human

Gender

Male

Blood Type

O

Date of Birth

September 13, 1973 (1976 in anime)

Date of Death

April 18, 2006 (film only)

Age

30-31 (pre-timeskip)
36 (post-timeskip)
39 (post-series oneshot)

Height

6'3"

Weight

230 lbs

Occupation

Police officer

Organization

Stats

Intelligence

6/10

Creativity

6/10

Initiative

8/10

Emotional Strength

8/10

Social Skills

7/10

Other Attribute

Verbosity: 1/10

Actors

Japanese Dub

English Dub

John Murphy

Korean Dub

Spanish Dub

Luis Grau (Spain)
Alejandro Mayen (Mexico)

German Dub

Stephen Schleberger

Hungarian Dub

Miklós Kapácsy

Portrayed By

Shimizu Shin (清水伸, Shin Shimizu)

Kanzo Mogi (模木=完造, Mogi Kanzō) is one of the most dedicated members of the Japanese Task Force, but also one of the most reserved.
Appearance
Edit
Mogi is a tall, broad man who sports stout and spiky black hair. Like all members of the Task Force, he dresses formally in suit, tie and shoes.
Character
Edit
Mogi rarely speaks, even when someone presents an opinion he agrees with. He is shown to be an excellent actor, becoming an excited and cheery manager for Misa on demand and in seeming contradiction to his usual demeanor.
In the manga, he is originally ordered by L to investigate the Kitamura family, and to pose as L, since the family members were under suspicion of being Kira. Mogi initially seems to serve as more of a field agent during early parts of the Kira investigation, not seeming to be present during most of the team's meetings in any of the various hotels they met in. Mogi is seen meeting with the team more often when the investigation team moves to their new headquarters, where L acknowledges him as being an invaluable asset in intelligence gathering.
Conception
Edit
Obata believes that Mogi's character design became not "very coherent" because Obata had not planned for Mogi to become a main character. He apparently did not draw Mogi as main character, and did not expect him to last through the whole series.
Ohba believes that, if Mogi became the NPA chief by the end of the story, he would "lean toward L's side," with Near as L.
Fate in the film
Edit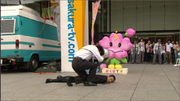 Although Mogi doesn't die in the manga or the anime, he dies in the film. He is killed by Misa early on in the second Death Note movie. This death was similar to the fate of Ukita in both the Anime and Manga.