Kiichiro Osoreda
Talk

1
395pages on
this wiki
Kiichiro Osoreda
Appearances

Manga Debut

Anime Debut

Live Action Films

Personal Info.

Also Known As

Kiichiro Osoreda

Species

Human

Gender

Male

Date of Death

December 20, 2003 (2006 in the anime)

Occupation

Criminal

Stats
Actors

Japanese Dub

Katsuhisa Kouki

English Dub

Brian Dobson

Spanish Dub

Luis Alfonso Mendoza (Latin America version)
Vincente Gil (Barcelona, Spain dub)

Italian Dub

Mauro Magliozzi

French Dub

Pascal Massix

Portrayed By

Minagawa Sarutoki (皆川猿時, Sarutoki Minagawa)

Kiichiro Osoreda (恐田奇一郎, Osoreda Kīchirō) is a drug addict and a criminal used by Light to trick Raye Penber into revealing his FBI badge to Light so he can kill him.
Osoreda ha
d failed in an attempt to rob a bank, shooting a teller and two customers as he escaped. Light writes Osoreda's name in the
Death Note
, dictating his actions. Osoreda boards a bus and holds a gun to the driver
Sasaki
's head. Osoreda threatens Light as he unwittingly picks up a piece of the Death Note. Due to this,
Ryuk
appears solely to Osoreda, frightening the criminal. Osoreda empties his ammunition into Ryuk, who does not die.
Osoreda forces the driver to stop the bus and then runs into the street, where an automobile hits Osoreda's head, killing him; the authorities mistakenly believe that Osoreda's vision of Ryuk was a drug-induced hallucination.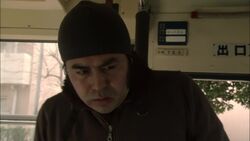 Osoreda appears in the first film, with a few changes:
He picks up the paper that had Light's plan to stop him on it instead of the date plan
Raye Penber sees him from the newspaper instead of remembering him from the news.
He is hit against his side by the car while standing, instead being hit by his head while crouching.
In the film, when he jumps out of the bus, the car hits him the second he

Death

Added by

DXM3557

leaves, while in the Anime and Manga it takes a few seconds. The car goes out of its way to hit him.