K
Talk

10
397pages on
this wiki
K
Appearances

Live Action Films

Personal Info.

True Name

Kimiko Kujo (久條 希実子, Kujō Kimiko)

Species

Human

Gender

Female

Occupation

Doctor

Organization

Actors

Portrayed By

English Dub

French Dub

Naveli Forest
K is a character in the film L: Change the WorLd. K is a member of Wammy's House and her identity is widely known as a virus researcher.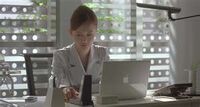 K first appears working as an assistant to scientist
Kimihiko Nikaido
in the Infectious Disease Center of Asia. Under orders form Washington, they were to analyze a virus sample taken from Bangnum village, Thailand.
After a discussion concerning the effects of the virus, Professor Kujo suggests that the virus is a weapon, saying "Many countries are secretly undertaking the development of virus weapons. Some countries succeed." Professor Nikaido then informs Professor Kujo that the virus weapon has failed, saying "No, this one is a failure. A virus weapon is a success, only if it comes with an antidote. Otherwise, the user will also be infected. I'm sure there was an antidote, but it's of no use now." When asked why, he replies with "This virus has mutated within the last 20 hours."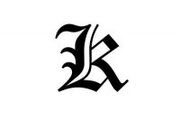 Not long after this happens, Watari passes away as prior to the events of Death Note: The Last Name. L writes a message to inform the other members of Wammy's House and one by one, selects the recipients. He is shown hesitating on sending the message to K. K replies almost immediately and writes "Thank you for the information. It shocked me. I will mourn his death, too. - K"
Later, Professor Nikaido calls K (Who he thinks is just Professor Kujo) and tells her to come to the lab. Then K arranges for Daisuke Matoba, who is a leader of a bio-terrorist group, and his group to come with her. At the lab, Matoba explains to Professor Nikaido that what they are doing will benefit the Earth's ecosystem, saying "If there are too many, all we are doing is decreasing that number." K finds out that Professor Nikaido has indeed created an antidote already. K and company beg for said antidote, but Professor Nikaido does not give it to them. He decides to incinerate the antidote and delete the data for the antidote. He finally commits suicide by injecting himself with the virus.
After, K and the bio-terrorist group are seen searching through data, trying to look for the antidote. K remembers a code written by Professor Nikaido in his daughter's homework book. Deciphering it ultimately brings up the word "Watari". She contacts L and asks for his help in finding the antidote data and also sets up a meeting with him.