Kurou Otoharada (音原田 九郎, Otoharada Kurō) was a criminal and the first person killed by Light Yagami with the Death Note.
Appearance
Edit
Kurou has a short crop of brown hair and small black eyes.
Kurou Otoharada killed and wounded six people before taking eight pupils and members of staff hostage at a nursery school. These events were reported on Japanese television along with a photo of him.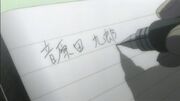 At home, Light Yagami had just acquired the Death Note and wanted to try it out. Deciding to select someone who deserved to die, he wrote "Kurou Otoharada" in the Death Note and waited 40 seconds. When nothing happened he assumed that it was a fake but then it was reported on the news that the hostages were leaving the building and that police were entering it. Otoharada was later reported to have died of a heart attack.
After later killing Takuo Shibuimaru, Light was convinced that the Death Note was genuine and proceeded to use it in order to kill criminals throughout the world. The systematic deaths of criminals by heart attacks did not go unnoticed and before long the authorities were hunting for the supernatural killer now publicly known as "Kira".
L traced the first Kira killing back to Otoharada since it was an unexpected death by heart attack that occurred just before the Kira killings began en masse. Since it was only reported in the Japanese media, he deduced that Kira was based there and set up the broadcast featuring Lind L. Tailor exclusively in Kanto, Japan's most populous region. When Kira killed Tailor, L now knew where to begin his investigation.