Home
Talk

41
397pages on
this wiki

Welcome!
Welcome to

Death Note Wiki

, the fan-operated site for the series Death Note by Tsugumi Ohba and Takeshi Obata!
Please note: This is aWikiacovering information about theDeath Noteseries, and as such contains spoilers.
About
The Wiki
Death Note Wiki is a database that collects information about the series Death Note. Anyone can edit and add information to this site, and your help is always welcome! Aside from editing and maintaining articles, we here at Death Note Wiki also host competitions and various activities related to Death Note.
The Series
The series Death Note centers around a high school student named Light Yagami who discovers a supernatural notebook that allows him to kill anyone by writing the victim's name while picturing his or her face. The plot follows his attempts to become God by creating a New World cleansed of evil, using the book; the complex conflict between himself and all those who try to stop him.
News And Announcements
Help US Out
Want to improve the wiki? Here's what we really need some help with:
Please be sure that your information is correct and that you use correct spelling and grammar.
Art Contest!
Death Note Wiki is holding an art contest, and the winner will have their art featured here on the Main Page. If a winner chooses to, they will be able to write an article for the wiki that tells us about their creation and why they made it. (Update: In order to make things a bit easier, we are no longer using Tumblr. Instead, all entries should be uploaded to the wiki.) More Information Here
Our next winner is here!
Congratulations to "TheOrignigalL", who drew a picture of L!
The secretive artist brought us this great picture of L, which they drew while fighting off boredom. The sketch took them about thirty minutes to complete. We really enjoyed this submission for it's colors, and loved the shading of L's skin and hair. The artist informs us that they might upload some more drawings, and we certainly look forward to them! We'd like to thank "TheOriginalL" for this awesome entry, and hope we get some more!
To see last weeks entry, check out the Submissions Page!
Featured Content
Featured Article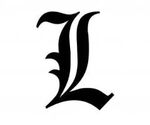 L (エル, Eru), known universally by the letter L, is a world renowned detective that takes on the challenge of catching the serial killer known only as Kira. In his investigation, L becomes highly suspicous of Light Yagami, and makes it his goal to prove that Light is Kira. L leads the Japanese Task Force, a team of police officers dedicated to Kira's capture. (more...)

Featured Media
Helping Out
New Wikians
Is this your first time participating on a wiki? 
Here's what you can do!
Start by Registering to become a new member in the Death Note Wiki Community!
Check out the tutorial for some basic information about wikis.
Go through the community portal to see what the Death Note Wiki community is working on, to give feedback or just to stop by and say hello.
You can also take a look at the wiki activity, new pages and new files that have been uploaded. Also check out the categories to find pages and see how things are organized. Uploading images is a really easy way to help out - see the Special:Upload page!
Community Corner
Help & Information Desk
Facebook
Wiki Poll
Would you use a Death Note?