Midora
Talk

5
396pages on
this wiki
Midora
Appearances

Manga Debut

Anime Debut

Personal Info.

Species

Shinigami

Gender

Female

Stats

Intelligence

5/10

Inquisitiveness

5/10

Initiative

2/10

Empathy

2/10

Kills

7/10

Rank

9

Possessed

Made Eye Deal With

C-Kira

Midora (ミードラ, Mīdora) is a Shinigami that is only featured in the Death Note One-Shot Special.
Appearance
Edit
Midora is a salamander-like Shinigami, who appears to be very short.
Character
Edit
Midora does not appear to be as serious as Rem, but also is not as ditzy as Sidoh when it comes to current or past affairs in the Shinigami Realm and Human World. This is demonstrated by her laissez-faire attitude about giving the spare Death Note to a seemingly foolish person whose identity is never revealed, C-Kira, or Cheap Kira, as she is named by Near.
Midora develops a liking to bananas, which is similar to Ryuk's love for apples, due to the last panel showing C-Kira, in which Midora is eating a banana while surrounded by banana peels.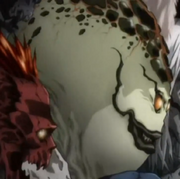 In the story, Midora bribed the Shinigami King with 13 apples taken from the Human World in exchange for a spare Death Note she could drop on Earth. After the Shinigami King obliged, Midora went to the Human World and gave the Death Note to a man, who was known as C-Kira. C-Kira then made the eye deal with Midora, and then started using the Death Note by killing those who wished to die. Midora returned to the Shinigami Realm after Near's speech to the public, in which he called C-Kira an "abominable murderer". When Midora met Ryuk in the Shinigami Realm, she stated that C-Kira "let out a squeal" and then wrote his own name in the Death Note. Ryuk then told Midora something that Light once said: "A human must have strong spiritual strength and conviction to use the Death Note properly".
In the anime, Midora is shown briefly during the first title sequence in a group shot with several other Shinigami.
In the Japanese version, her name is spelled Meadra.