Sachiko Yagami
Appearances

Manga Debut

Anime Debut

Novels

Personal Info.

Species

Human

Gender

Female

Blood Type

O

Date of Birth

October 10, 1962 (1965 in anime)

Age

41-42 (pre-timeskip)
46-47 (post-timeskip)

Height

158 cm (5'2")

Weight

50 kg (110 lbs.)

Family

Stats

Intelligence

3/10

Creativity

3/10

Initiative

3/10

Emotional Strength

4/10

Social Skills

6/10

Other Attribute

Verbosity: 10/10

Actors

Japanese dub

Ai Satou (さとうあい, Satō Ai)

English Dub

Saffron Henderson

Korean Dub

Do Yeong Song (송도영, Song Do Yeong)

Spanish Dub

Erica Rendón (Mexico)
Azucena Díaz (Spain)

Portuguese Dub

Márcia Morelli

Italian Dub

Antonella Alessandro

French Dub

Claire Conty

German Dub

Petra Glunz-Crosch

Hungarian Dub

Ildikó Ősi

Live Action Films actor

Sakura Uehara (五大路子, Uehara Sakura)
"Don't be silly. I'm going to be with you all the way. No matter what…"

— Sachiko Yagami
Sachiko Yagami (夜神=幸子, Yagami Sachiko) is the wife of Soichiro Yagami, as well as the mother of Light Yagami and Sayu Yagami. She is oblivious to Light's ownership and use of the Death Note.
Appearance
Edit
Sachiko has short brown hair, cut above her shoulders, and dark colored eyes. She tends to dress casually, though rather nicely.
Character
Edit
Sachiko is a kind woman that deeply loves her family. She loves her husband, Soichiro very much and worries about his well being while he works on the Kira case. When Soichiro is hospitalized due to a stress related heart attack, she is frequently by his side to care for him. As concerned as she is about Soichiro, she also understands his convictions in working on the Kira case and she stays by his side. Sachiko is very proud of her son, Light and congratulates him on his good grades. When Sayu is wheelchair ridden due to emotional trauma caused by her kidnapping, Sachiko aides her recovery, encouraging her and taking her for walks outside.
Sachiko Yagami was apparently never told that her son Light was Kira. It is likely that she was told he died in the battle against Kira like his father Soichiro. Near made sure that it never got out about Kira being defeated and in the manga, people just thought Kira was resting.
She is first seen waiting for Light to show her his exam grades.
Conception
Edit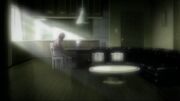 Obata said that he had no real concept behind the design of Sachiko; he said that he encountered difficulty in drawing female characters who were not the main characters. Ohba did not include Sachiko in the final chapter of the manga, but stated that someone of the Task Force would likely tell her that Light and Soichiro died in order to stop Kira. The Task Force members would never let the world know the truth about the Death Note case.