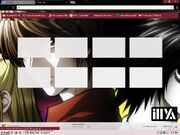 Attention, Google Chrome users: You can customize Chrome with this Death Note theme created by iLLyA!
Using the theme will make GC black and red, and an image of Light, L, and Misa will appear when you open a new tab.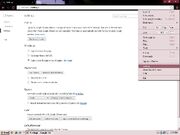 To get this theme: 
Go to your tools, and select Settings.
Under Appearance, click Get Themes.
Chrome Web Store will open and various themes will be available. (They do not cost money.) 
Scroll down to the Death Note theme. Hold your mouse over it and click Choose Theme. 
You will not need to take any more steps, as Chrome will now download and apply the theme automatically. It should take effect within seconds. 
iLLyA has created GC themes for other anime, including: One Piece, Naruto, Bleach, Dragonball Z, Ketyko Hitman Reborn, Inuyasha, Fairy Tail, Kuroshitsuji, and more. 
You can contact iLLyA by email and request an anime theme: ppgmaster@naver.com
Want to say "thank you" to iLLyA? Hold your mouse over the theme, click the folder icon, and add a review!  : )
Ad blocker interference detected!
Wikia is a free-to-use site that makes money from advertising. We have a modified experience for viewers using ad blockers

Wikia is not accessible if you've made further modifications. Remove the custom ad blocker rule(s) and the page will load as expected.