Watari
Talk

6
397pages on
this wiki
Watari
Appearances

Manga Debut

Anime Debut

Live Action Films

Novels

Video Games

Personal Info.

True Name

Quillsh Wammy

Also Known As

W

Species

Human

Gender

Male

Blood Type

B

Date of Birth

May 1, 1933 (1936 in the anime)

Date of Death

November 5, 2004 (2007 in the anime)

Age

70-71

Height

5'7"

Weight

112 lbs

Organization

Stats

Intelligence

7/10

Creativity

8/10

Initiative

10/10

Emotional Strength

10/10

Social Skills

8/10

Other Attribute

Versatility: 10/10

Actors

Japanese Dub

English Dub

French Tickner (anime)
Ron Halder (films)

Mandarin Dub

Youwen Chen (藤村俊二, Chen Youwen)

Cantonese Dub

Wong Chi-King (黃子敬, Wong4 Zi2< Ging3)

Korean Dub

Park Yeonghwa

Spanish Dub

Carlos del Campo (Latin American)
Felix Benito (Spanish)

Italian Dub

Michele Kalamera

French Dub

Pierre Dourlens
Cyrille Monge (films)

German Dub

Hans-Gerd Kilbinger

Portrayed By

Watari (ワタリ, Watari) is L's handler, as well as the supplier of logistics to the Japanese Task Force.
Appearance
Edit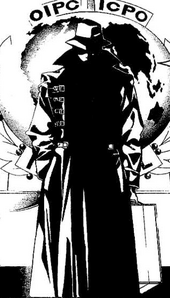 He has grayish-white hair and blue eyes. As L's assistant Watari, he wears a long black suit and a hat which also covers his face. After he revealed his appearance to the Task Force, Watari wears a black tuxedo with a black hat and glasses.
Character
Edit
Watari is a famous inventor and the founder of Wammy's House, an orphanage for gifted children in Winchester, England. Using the fortune he made as an inventor, he built an orphanage that teaches children with special talents, and sends them out into the world. Before the Japanese Task Force is formed, he is the only person who has seen L, and the only one capable of contacting L directly. Like L, he represents himself with an Old English "W" on computer screens. He is also a fatherly figure to L. Watari is well trained in espionage and marksmanship. According to Death Note: How To Read 13, Watari likes Earl Grey tea and dislikes dirty rooms.
Watari first appears during an Interpol emergency meeting, as he informs that L is currently working on the Kira case.[1]
During the chase with Kyosuke Higuchi, Watari helped to stop him from committing suicide by shooting a gun from a helicopter.
After Light regains his Death Note, he tricks Rem into killing Watari and L for his own personal gain. Before Watari dies, he presses a kill-switch button which causes all data deletion at task force headquarters. L told him to do this if something 'strange' were to happen to him. Rem disintegrates after killing L and Watari because she deliberately increased Misa Amane's lifespan by causing their deaths.
His death in the anime is nearly identical to his death in the manga, with the exception that in the anime, Rem is shown behind Watari, stepping back into the shadows with her one visible eye glowing red.
In Other Media
Edit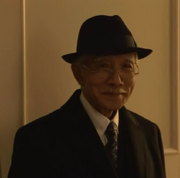 In Death Note: Last Name and L: Change the WorLd, Watari dies of a heart attack in the elevator while capturing Misa.
In the film, he is played by Shunji Fujimura, who felt that Watari's presence would "come alive" if he projected "the mood of this mysterious old gentleman without the air of livelihood."
References
Edit
↑

Death Note Manga: Chapter 02, Page 8